Reconciliation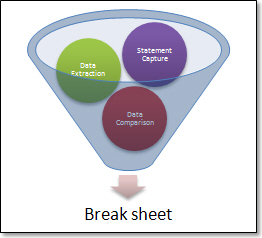 Any CTA with managed accounts knows that one of the most time-consuming aspects of the job is reconciling your books and records with those of your clearing brokers. This becomes an especially arduous task when you have clearing relationships with multiple brokers.
It seems that no two brokers have the same statement format, use the same symbology, or adhere to a consistent price convention.
What makes things even more frustrating is that most of the effort is spent reviewing trades that are correct in order to locate the ones that are wrong.
TheBooks reconciler automates this process and presents you with the trades, positions, and balances that do not agree, eliminating the tedious process of manually locating discrepancies.
Obtaining statements and equity runs
TheBooks reconciler reads human-readable statements, not data files. This allows you and the software to use the same source when reviewing the information provided by your brokers.
TheBooks includes the capability to automatically receive and identify statements via email and reach out and download statements from FTP sites. If you must manually obtain your statements from a web site, you simply drop the statement file into a folder and TheBooks will automatically process it.
In addition, TheBooks automatically organizes, encrypts, and compresses your statements and saves them within its database providing a single point for backup. It also includes facilities for exporting your statements onto disk in an organized fashion allowing you easily prepare for audits.
Data extraction
Because no statements are created equal, the Reconciliation module provides complete flexibility in symbol translation and market re-valuation. It allows accounts from multiple statements to be mapped to a single account and translates and converts all markets, exchange rates, and quantities to your standards. Contract prices and quantities can be scaled and inverted, FX trades can be re-stated, and exchange rates can be scaled and inverted.
The result... all data is presented in a single, consistent format the way you want it, using the symbols, account numbers, and conventions you use.
Reconciling accounts
To reconcile trade confirmations, simply select Discrepancies and then Confirms. Trades with differences, trades missing from the statement, and trades missing from your system are displayed. To see differences at the FCM level, select the FCM and then click on Confirms. Reconciling positions and balances work the same way.
If required, multiple people can reconcile at the same time, each working with one or more FCMs.
There is even an issue tracking facility to keep track of problems so they don't get overlooked on subsequent statements.
Access to statement data
The Reconciliation module also includes an statement archive allowing you to recall any statement and its data from anywhere in your network. There is no need to look for statements in your files. Just select the date, and you can review all statements and their data for that day.
Because all extracted data is stored in SQL Server database, it is available for you to analyze using any of the popular reporting tools.